In this workshop you will learn how to create a deeper contact with the client and how you can use art, drawings, storytelling and symbols to activate the entire brain and hereby in a creative way work with the client's full potential.
Play and fantasy is universal, throughout history and in all cultures, people have used art as an expression.
The language of art opens up to the subconscious mind and the field in a very beautiful and gentle way. Sometimes words are not enough when we want to express ourselves.
To awakening our potential we must create a path to our creativity.
What´s it all about
When we use art and symbols we acknowledge the psyche has a self-healing potential, and the most genius solutions comes from the subconscious and the field. People have always expressed themselves through myth, fairytales and stories – here we awaken the great potential of the field to create solutions.
Creative and successful people are very excellent in using the visual, images and the "As if" frame.
Who is the workshop for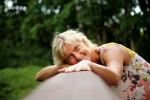 Anyone working in the field of NLP and/or coaching.
Facilitator
Master Trainer, Inge G. Ludvigsen
Inge´s mission is to create a loving and creative environment where people can nurture the soul – to create beauty, healing and growth. We all deserve to have a good life.
What´s involved in the workshop
The workshop will be practical and interactive.
Outcome
Methods to get access to the creative subconscious mind and the creative field.
You will get methods from art, drawing, storytelling and how to use concrete symbols when you are working with your clients.
Length
2-3 days