WholeWorldPlay® in business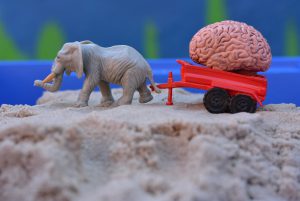 WholeWorldPlay® is especially useful for working with cooperation, team building, values and setting goals, different phases in the preparation of projects, leadership, vision and branding, conflict management, change and coaching.
The method is based on Inge´s many years of experience in coaching and facilitating of processes in business.
Theoretical background
The framework for WholeWorldPlay® is based on traditional Jungian Sand Play, where you work with objects in the sand. Change, development and processes can be viewed as a symbolic image/metaphor in WholeWorldPlay®. When the symbolic image is created we add coaching in the facilitation to create durable and sustainable results.
Working with people, both intellectually and creatively, makes the process and the result more consistent. It makes the individual employee commit and enhances motivation.
Our experience is that when given space to non-verbal reflection and creative expression that is equal for all participants, the results are far better and ultimately more sustainable and ethical.
"Play is a universal feature of childhood. Play is a concept in itself, can not be limited to a particular community, psychology, universal view or to a certain level of civilization. Play has existed in all cultures and in all known historical periods. It can be described as an overall biological form through which society expresses its interpretation of the life and the world "  Luria 1966
Who can participate?

Anyone with experience in management, coaching, facilitation and communication.
Participation in WholeWorldPlay® Facilitator requires no previous knowledge or achievement.

Time
4 modules of 3 days, a total of 12 days a year.
Price
3920,00 EUR. per. participant
Registration
Are you or your company  interested , please contact 
Content
Module 1
Introduction to WholeWorldPlay®, symbolization and review of objects. As a facilitator, you need to activate people's different intelligences. Often, individuals/groups are in a locked state and need other methods to activate the creative state.
When we work with WholeWorldPlay® we create contact with more of our brain's functions; the autonomic nervous system/body sensations, the limbic system / emotions and the learning / thinking. The ability both to sense, feel, think and act in accordance increases our resilience and creativity in meeting with the challenges of life.
In this module we will focus on you as a facilitator, your body language, your ability to create limbic attunement, how to use yourself and affect the group.
You will learn to use Key Powerful questioning to create change. You will learn to create new meaning and understand the intent and purpose behind your (our) and others' behavior and actions so that you, as a facilitator, can accommodate the people you work with.
We will involve creativity and imagination by using the objects and WholeWorldPlay®.
Module 2
In this module , we will work with Story Telling and facilitation of groups.
We will work with different group dynamic processes . You will learn how to facilitate group processes about cooperation , values , job satisfaction and company culture , and how to facilitate conflict. We include objects and sand in the various processes .
We will involve Storytelling along with the use of objects. Storytelling  is a powerful tool and speaks both to the conscious and unconscious at the same time . As far back we have historical records , man has used stories as communication through myths , fairy tales , dreams , legends , religious stories and parables.
Professional use of Storytelling is an elegant way to help and develop human potential and together create sustainable results.
Module 3
We will work with problem solving and facilitation of projects from dream to reality . When working with large projects , there are different stages it is important to get through , to achieve a realistic  plan. You will learn how to guide a group through these phases.
We will work with different creativity processes and how to use WholeWorldPlay®  as a great tool when we want to work with the Mission, Vision and branding.
We will also focus on what stories you, your company and team tells to the world. Why these stories? Will it be better to tell a different story ?
Module 4
In the last module we mainly focus on your role as a facilitator and your ability to take leadership . We will involve archetypal energies in the formation of your identity.
There are five essential archetypal energies you need to access to take good leadership :
The peaceful warrior, love, king / queen, magician and humor.
You will get strategies to enable these archetypes in yourself and others through the use of objects , stories and WholeWorldPlay® .
We set aside time to supervise some of your own projects and share the lessons you have done by using WholeWorldPlay®
Final completion and evaluation.