Sandplay, Next Generation NLP and River of Life
Most people have played in the sand during childhood, build sand castles, dug tunnels and made cupcakes. Most adults know how sand tastes, we know this only because we have tasted it. Childhood fantasy was lived out on the beach, between land and water, or in the sand tray.
Sandplay therapy takes place in a room with two sand trays – one with dry sand and one with wet sand and a collection of symbols to use in the sand. The special thing about working therapeutically with sand, water and symbols is that we can express ourselves and through symbolization accessing the deeper layers of the psyche.
Sandplay as a therapeutic method was developed in the 1950´s by analyst Dora Kalff. She created the kind of Sandplay we now apply based on C.G. Jung's theories of the unconscious creative forces in the human psyche. Sandplay is an effective psychotherapeutic method which allows us to work with wordless, blocked and complex development processes in both adults and children. Sandplay is based on the fact, that the human psyche is fundamentally a self-regulating and self-repairing system. At Yes2Life we are combining original Sandplay with the technology of Next Generation NLP and storytelling, and use the method in coaching and group facilitating. This training is given in Denmark and internationally.
What is it all about
Practical introduction to Sandplay therapy
Categories of symbols
The Sandplay method
The therapist´s role
The client´s creative development process
Introduction to C.G. Jung
The symbol and symbolization
Basic themes and archetypes
The narrative –storytelling
Directing sand tray process – which combines Jungian sandplay therapy with NLP Processes
One day of the training we will work with "River of Life", a kinesthetic and visual symbolization of timeline
Especially suitable for working with relationship and systems
Who is the workshop for
Psychotherapists & Psychologists and students at their last year to become psychotherapists and psychologists. If you have 3 years of training in NLP and have interest in this method you are welcome.
Facilitator
Master Trainer, Inge Grethe Ludvigsen has been giving this training in Denmark since 2006 and Internationally since 2012.
What will you get from the workshop
You will be able to use the method with clients, couples and families.
Timeframe
Minimum of eight days, divided in two modules.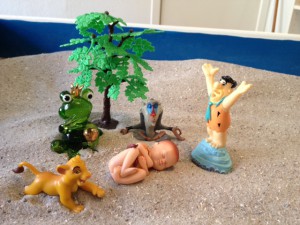 Reference "It is a very useful tool, for kids and also for adults. With this work, you can deepen in the layers where the conscious mind does not reach. To use the robes and the Sandplay, makes this work be very powerful (the client can look at his or her own situation, reaction or whatever he/she needs to work at), it is a systemic work and it continues functioning in the unconscious mind after it has been done. It is excellent!
– Patricia. Psychologist. NLP Coach and Trainer. Chile 2015
"The first workshop connected me with the healing power of the symbols… with the powerful layer of resources that is the unconscious mind, and the healing energy it has for us. To have had the opportunity of observing the process of the whole year, gratefully surprised me and gave me a very deep feedback of the work with symbols. The technique of the River of Life and NLP with Sandplay, gave me certainty related with the feeling that the rigorous work is held by what is playful, basically connecting to the Self and allowing the Ego to be a part of the connection to the external world. The opportunity of having someone who sees you and sees your processes is great. It is a big opportunity of contribution to the world to use these techniques, for me it is an opportunity to be certain of my true sense of life and to integrate my own way of working in this time and place of life. Thank you Inge, Jessica and also Life" – Josefina. Engineer. NLP Coach and Trainer. Chile 2014/15
"I am thankful for the simplicity and deepness of the experience. I am touched by the tenderness and love of this work. I discovered that tenderness can heal, and that you can touch others lives with these tools. I can sum up what I experienced during this days through a chain of word; simple – deep – awareness – love acceptance – responsibility and fulfillment. Each topic and demonstration has been a journey itself. To explore the unconscious mind with respect, curiosity and openness, gave me unexpected treasures. The processes I lived in such a simple way left me traces that will stay with me for a long time. To see myself and to see others has been a miracle to celebrate life. Thank you for the generosity on the giving and the deep love towards others which enriched my heart. Thank you again" – Carmen. NLP Coach and Trainer. Chile 2015
 
"Inge: First of all, thank you a lot for your presence and teachings… for me, the Sandplay experience has been from the beginning a very powerful tool. Which has motivated me with its simplicity and closeness; it is a big treasure to share with others and the system, giving transformational seeds in a loving and respectful space. It has awakened again in me, the passion for the healing processes, because it is aligned and wonderfully integrated with NLP and family constellations and I am fortunate to work with this, with children, young people and adults. I thank you for the love in what you teach us, for the connection and simpleness. It is a tool that reaches deep layers of wonderful unconscious treasures. It gives me great happiness to integrate everything that I know and I love in my life mission. I feel for the first time I am looking at myself from a more loving space" – Rosario. School Teacher. NLP Coach and Trainer. Chile 2014/15