Inge Konge Ludvigsen, Owner and founder of Yes2Life ApS – The Academy of Psychotherapy & Coaching.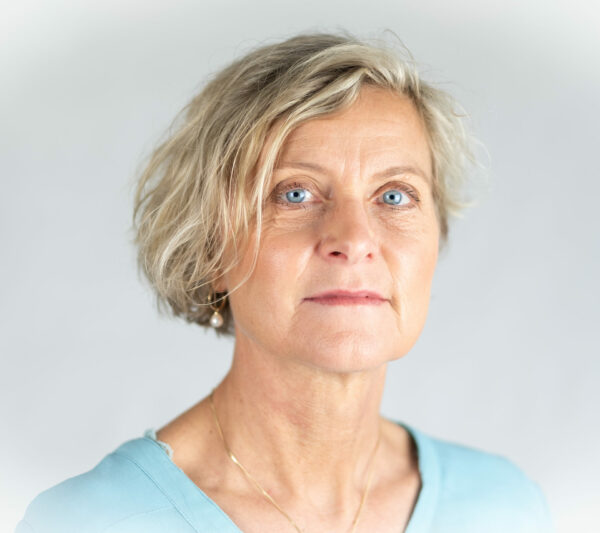 The purpose of Yes2Life is to educate professionally in coaching, psychotherapy, facilitating and consultancy.
Inge began studying NLP in 1992 and Jungian Analytic Therapy, Infant Therapy and Sandplay in 2002. In 2011 she began studying FamilyConstellation.
Today she is combining these methods in her work to process the entire human system in the most successful way.
She has been a trainer since 1996 and has worked as a professional therapist and whole-life coach since 1997. In 2012 she developed WholeWorldPlay®
Inge is member of EAP, European Association of Psychotherapy and MPF, Danish Association of Psychotherapy.
Inge inspires people around the world and gives trainings internationally (Finland, Holland, Chile, Canada, USA, Greenland) She speaks Danish and English.
Inge´s vision is that: "Together we can Heal the world, and so much – much more…."
Inge´s mission is to create a loving and creative environment, where people can nurture the soul – to create beauty, healing and growth. We all deserve to have a good life.
The standard of Yes2Life is high and we are known in the business for our sustainable solutions. Creativity, growth, communication, innovation, change, collaboration and focus on the company or organization's culture are just some of the areas we have extensive experience in working with.
Some of the training Inge has been given Internationally
Trainer & Facilitator, awake your trainer and facilitator potential
Infant therapy and early trauma therapy
WholeWorldPlay® Counseling and Facilitating
Sandplay Therapy and River of Life
Using symbolization and storytelling in coaching
Turn the shadow of your survival strategies into your guardian angels
Balancing feminine and masculine energies
Therapeutic relationship, transference and counter transference
Personality traits and archetypes
Essential archetypes in self-development
The secret of being co-creation in the art of living
WholeWorldPlay®
WholeWorldPlay® is developed by Inge Ludvigsen together with a team of Integrative Psychotherapists from Yes2Life, from many years of experience working with children, youth, adults, teams and organizations in transformation, development and creativity. It builds upon a variety of methods like: Sandplay, Jungian Analytical Therapy, NLP, Family Constellations and Early Trauma Release.
A kit of WholeWorldPlay® contains about 300 figures, symbolizing the inner and outer world. All the categories from Sandplay Therapy are represented. 3 grey trays with figures and 1 blue tray with modeling sand.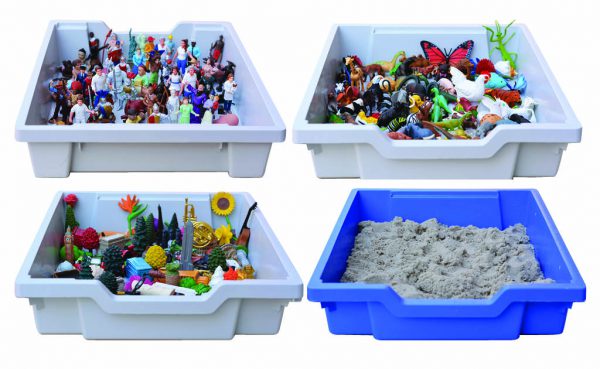 The Kit is developed so you as an individual child/adult or group can benefit just form playing with the figures in the sand.
The uniqueness of working with sand and figures is that we get in touch with ourselves and the living world both inside and around us. In a world overloaded with technology, apps and computer games, this method offers a way to grow and develop into healthy human beings.
Through symbolization we access a deeper level of creativity, myth and stories. This helps us to find meaning, healing, transformation and much better solutions.
Therapy
WholeWorldPlay® is a method than can be integrated in all sorts of systems: Family Therapy, School Psychological Counseling and child psychiatric units as well as private practice for psychologists and psychotherapist.
Business
In the world of business WholeWorldPlay® is used in working with leadership, mission and vision, teambuilding, value and goal setting, different stages in the development of a project, facilitating changes and conflicts and group coaching.
WholeWorldPlay® is developed so you as an individual child/adult or group can benefit just from playing with the symbols in the sand.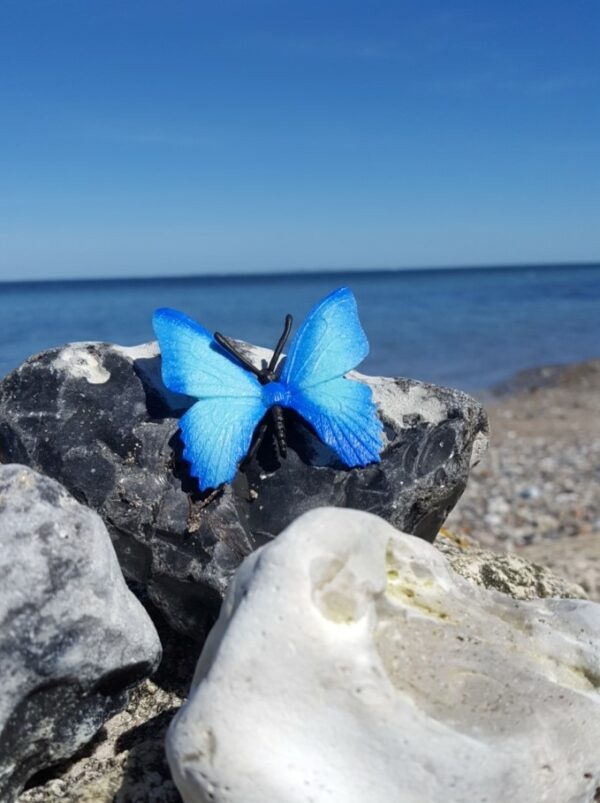 Reference
"It is a very useful tool, for kids and also for adults. With this work, you can deepen in the layers where the conscious mind does not reach. To use the robes and the Sandplay, makes this work be very powerful (the client can look at his or her own situation, reaction or whatever he/she needs to work at), it is a systemic work, and it continues functioning in the unconscious mind after it has been done. It is excellent!
– Patricia. Psychologist. NLP Coach and Trainer, Chile
"The first workshop connected me with the healing power of the symbols… with the powerful layer of resources that is the unconscious mind, and the healing energy it has for us. To have had the opportunity of observing the process of the whole year, gratefully surprised me and gave me very deep feedback of the work with symbols. The technique of the River of Life and NLP with Sandplay, gave me certainty related with the feeling that the rigorous work is held by what is playful, basically connecting to the Self and allowing the Ego to be a part of the connection to the external world. The opportunity of having someone who sees you and sees your processes is great. It is a big opportunity of contribution to the world to use these techniques, for me it is an opportunity to be certain of my true sense of life and to integrate my own way of working in this time and place of life. Thank you, Inge, Jessica and also Life"
– Josefina. Engineer. NLP Coach and Trainer, Chile
"I am thankful for the simplicity and deepness of the experience. I am touched by the tenderness and love of this work. I discovered that tenderness could heal, and that you can touch others' lives with these tools. I can sum up what I experienced during these days through a chain of word; simple – deep – awareness – love acceptance – responsibility and fulfillment. Each topic and demonstration have been a journey itself. To explore the unconscious mind with respect, curiosity and openness, gave me unexpected treasures. The processes I lived in such a simple way left me traces that will stay with me for a long time. To see myself and to see others has been a miracle to celebrate life. Thank you for the generosity on the giving and the deep love towards others which enriched my heart. Thank you again"
– Carmen. NLP Coach and Trainer, Chile

"Inge: First of all, thank you a lot for your presence and teachings… for me, the Sandplay experience has been from the beginning a very powerful tool. Which has motivated me with its simplicity and closeness; it is a big treasure to share with others and the system, giving transformational seeds in a loving and respectful space. It has awakened again in me, the passion for the healing processes, because it is aligned and wonderfully integrated with NLP and family constellations and I am fortunate to work with this, with children, young people and adults. I thank you for the love in what you teach us, for the connection and simpleness. It is a tool that reaches deep layers of wonderful unconscious treasures. It gives me great happiness to integrate everything that I know, and I love in my life mission. I feel for the first time I am looking at myself from a more loving space"
– Rosario. School Teacher. NLP Coach and Trainer, Chile

"It has been difficult to translate into words the profound changes in perception that occurred to me in relation to my identity as a coach… Above all, Inge transmitted me simplicity, closeness, friendliness and openness, she had the ability to create a work environment in which I felt welcome, accepted and which reinforced the skills I have acquired until then as a coach…. Simply, it is as if my identity as a coach was validated ….it took shape. Moreso, I was completely captivated by the playful work that was generated by integrating the NLP technology and other knowledge. And the magnificent work of hypnosis, permeating to the deeper layers of the unconscious. I think the most remarkable thing is that mostly inadvertently my unconscious was touched and left a lasting impression and a new excitement to discover and learn more about this line of work. Other characteristic of Inge that I liked, was her ability to explain the complex in simple and clear language making it interesting and easy to digest."
Schrag Sandra Loosli
"Inge gave me the opportunity to personally experience in a practical way, a perfect integration of two great ways to approach the psyche: the Jungian and the NLP approach. I would say that she successfully promoted and leaded a deep transit through the complex unconscious space, with perfect harmony and naturalness, capturing the light and the enormous potential of what seemed to have no light at all. This achievement indicates me, the expertise and mastery of Inge, who shared her knowledge and exposes her wonderful work in a simple, warm and brilliantly efficient way. I am very grateful to have had the fortune of getting to know her and experience her guidance.
Rocio Olivero
"Courtesy, closeness and willingness to mutual integration, attentive to the individual needs of the participants toward expanding maps. I emphasize the consistency in the development of the themes (the hero´s journey, conscious and unconscious internal world), which makes the workshop an example of its own theoretical content and experiences. Activities were carried out with great simplicity, capturing the essential, and also revealing the learning within a space of symbolism. Masterful! Staying on the path and achieving the goals in each session in connection with the audience."
Patricia Basualto
Publications
CD: "Wisdom of the Heart 1"
Fantasy journeys for body and soul – accompanied by instrumental music by Inge and Helle
Guidebook: "Balancing feminine and masculine energy" ™ by Inge and Wim
Book: "The journey of love in couples – 6 essential archetypes to cultivate a happy relationship" by Inge Ludvigsen & Jessica Riberi.
Television
DR 1: 10 broadcast of the consumer program "Rene ord for pengene" (Pure word for the money)
DR 2: "Par på prøve" (Couple on trial)
DR 1: "Den lille forskel" (The small difference)